The Property
Bird Watching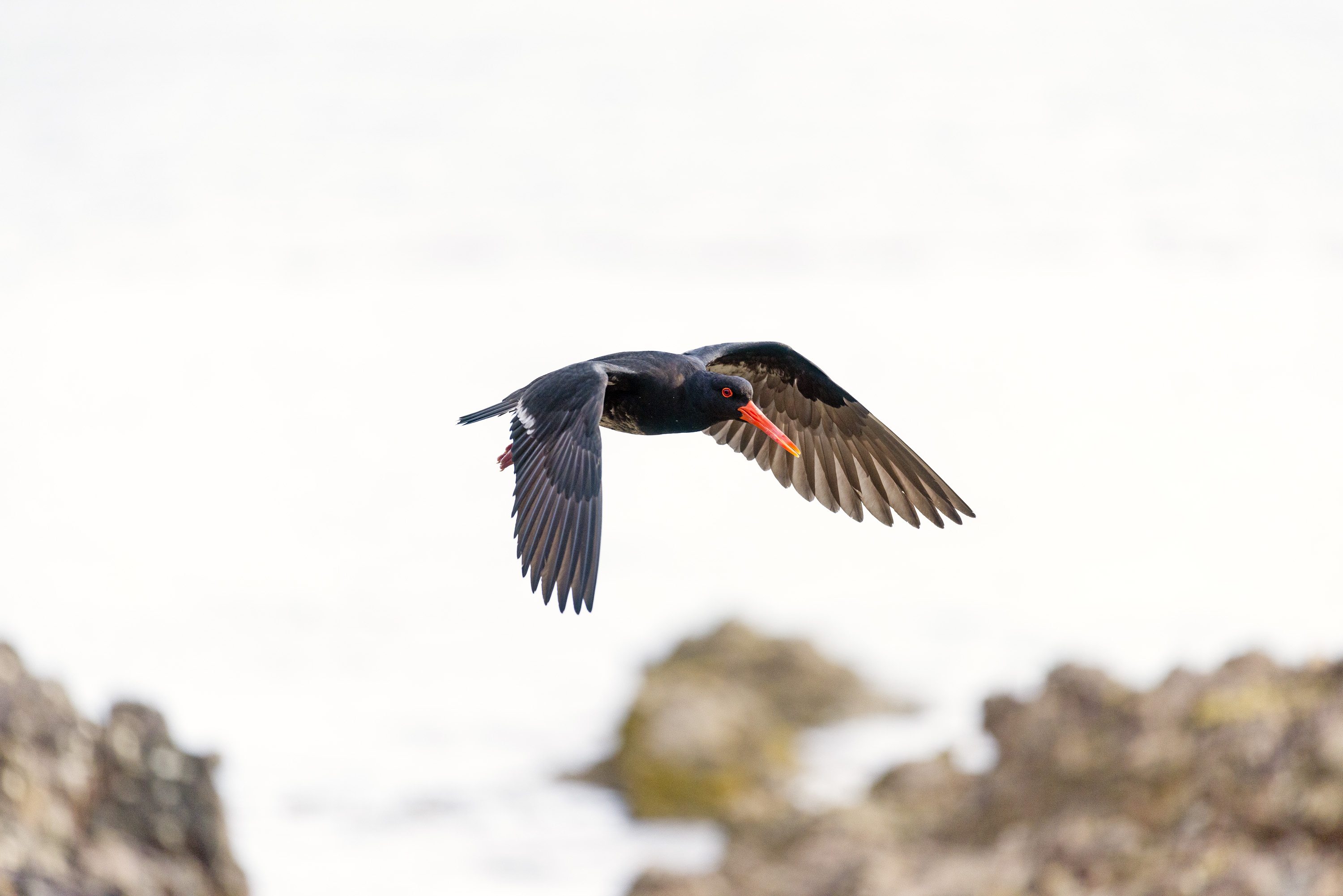 We have many unique and beautiful birds that wander and nest on our 800 acres.
In every room there is a set of binoculars to view all the beautiful birds from your balcony or go safari-style in one of our Polaris 4WD rangers and head out bird-watching for an afternoon.
See below for some of the birds that call Helena Bay Lodge home.
BROWN TEAL DUCK
Pāteke
The brown teal is a small duck endemic to New Zealand. They are now the rarest waterfowl on the mainland, with an estimated population of 2000. Helena Bay Lodge is a proud safe haven for brown teal duck populations (estimated numbers around 12) that muster around the waterways on-site, particularly by the guardhouse and the pond towards the back gate. Don't miss out on capturing the rare animal up close.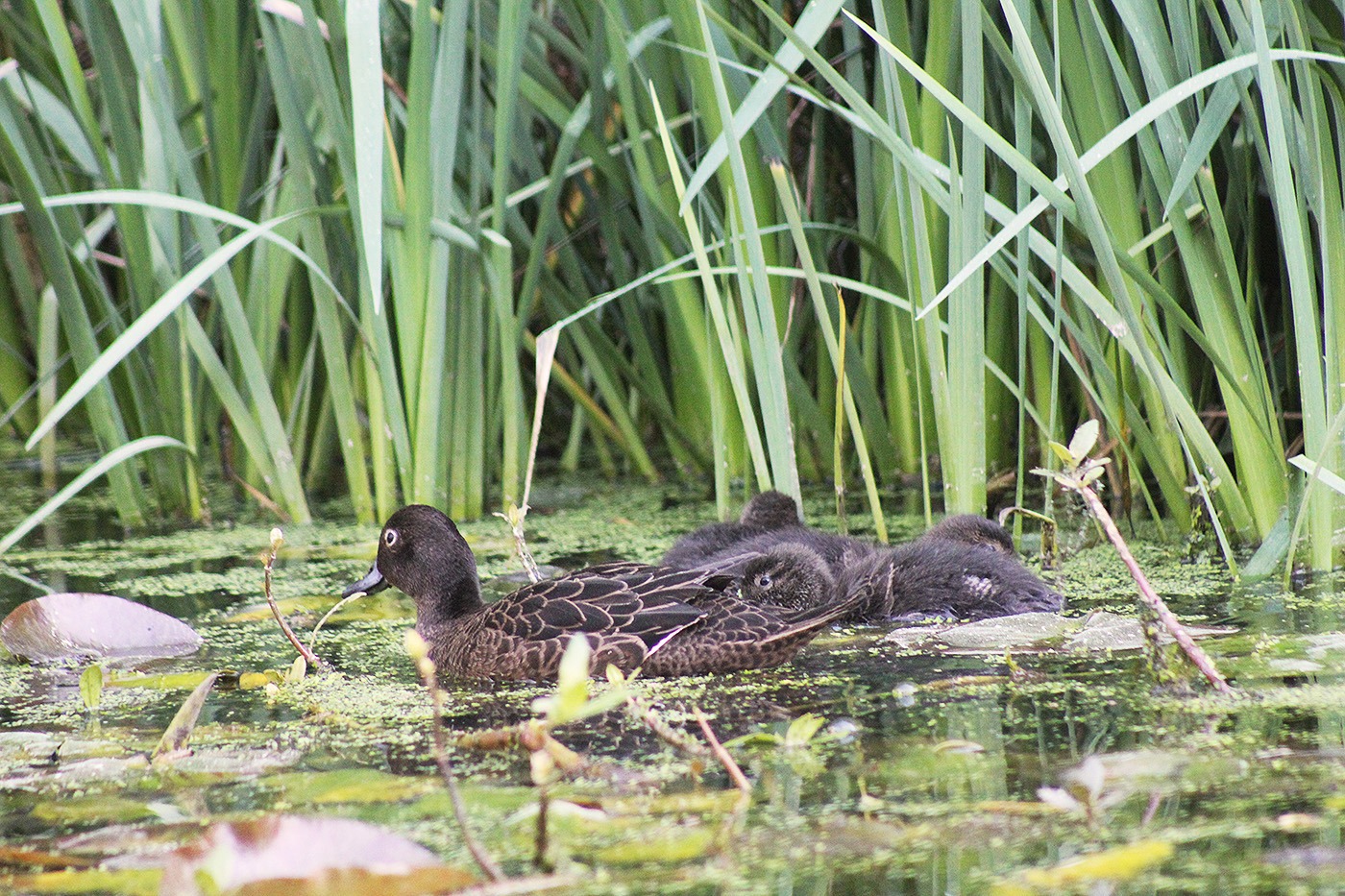 VARIABLE OYSTERCATCHER
Tōreapango
Once in serious decline due to hunting, the variable oystercatcher has been protected since 1906 and now has an estimated population of about 5,000 birds. The variable oystercatcher is found on rocky and sandy beaches, making the Otara, Bridle, Bradney, and Mohei shorelines along the Lodge ideal habitats for them. While they tend to avoid you, we recommend keeping ample distance during the spring/summer breeding season.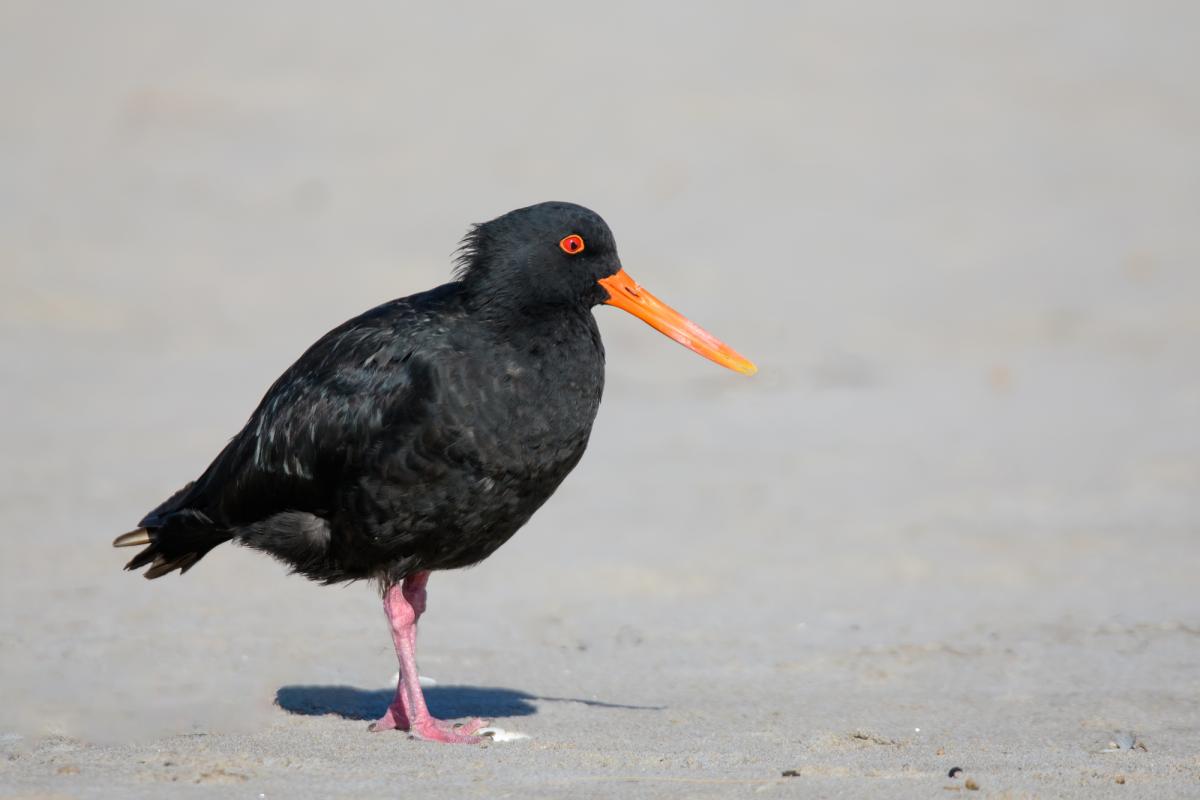 HERON
Matuku
The heron was introduced from Australia in the 1940s and inhabit low-lying wetlands. Helena Bay Lodge has a few herons on-site, with our most resident heron seen daily by the tennis court, staff carpark, and King Kong. With a slow approach, it can be easy to get fairly close, but they will always have their eye on you and take flight when their personal boundary is crossed.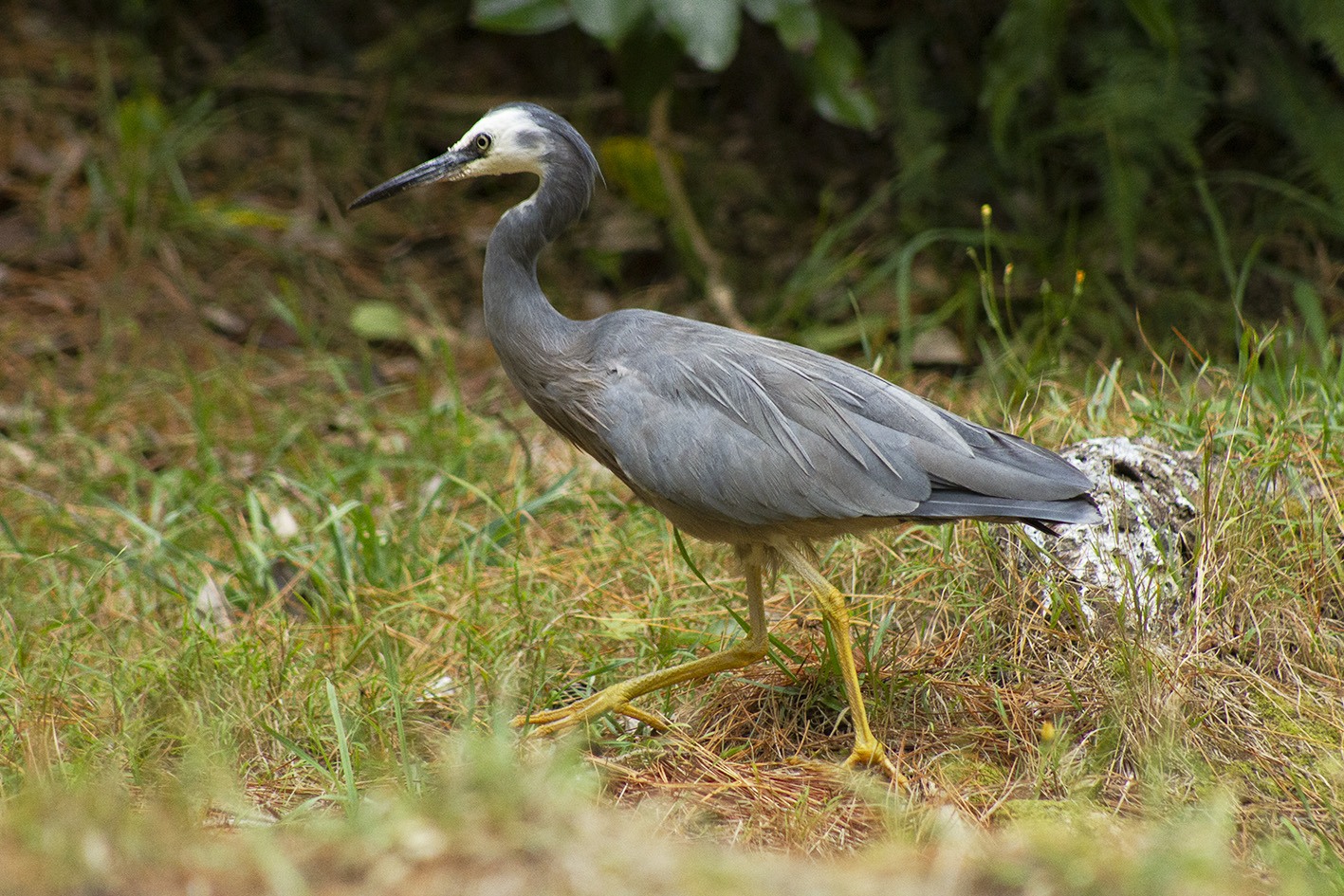 KINGFISHER
Kōtare
Kingfishers are found throughout the country in coastal and inland freshwater areas where they hunt for insects and small animals, making Helena Bay Lodge an ideal home for the kingfishers we have on-site. Find them anywhere around the Lodge, particularly perched on the tennis court fencing.
WEKA
Weka
Often confused with the kiwi, the weka is another iconic flightless bird of New Zealand. This area in Northland is a stronghold for weka populations, and as such, they are present on the property. The best places to spot them are along the driveway or on the forest edge.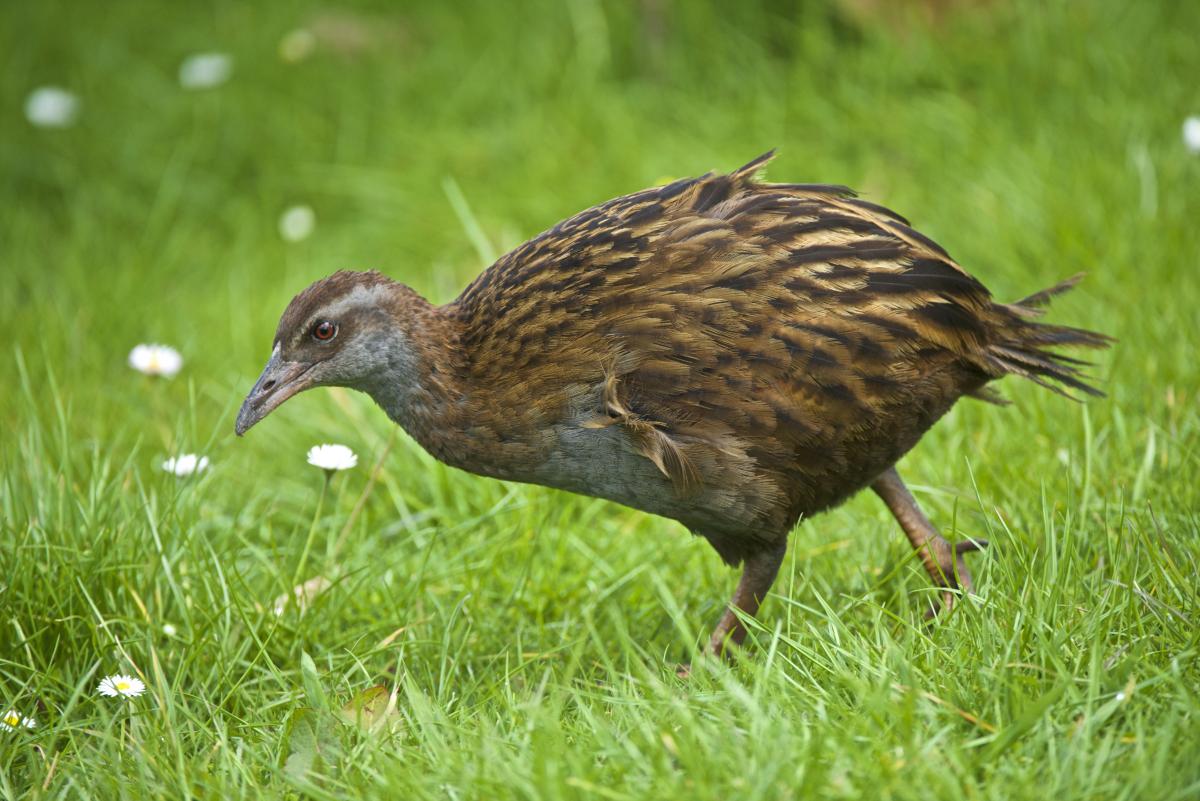 TUI
Tūī
Tuis are known for their distinctive melodic calls and white tuft under their throat. Tuis are present at the Lodge in both the forested areas and trees by the main entrance. Once you hear the birdsong, they are easy to spot.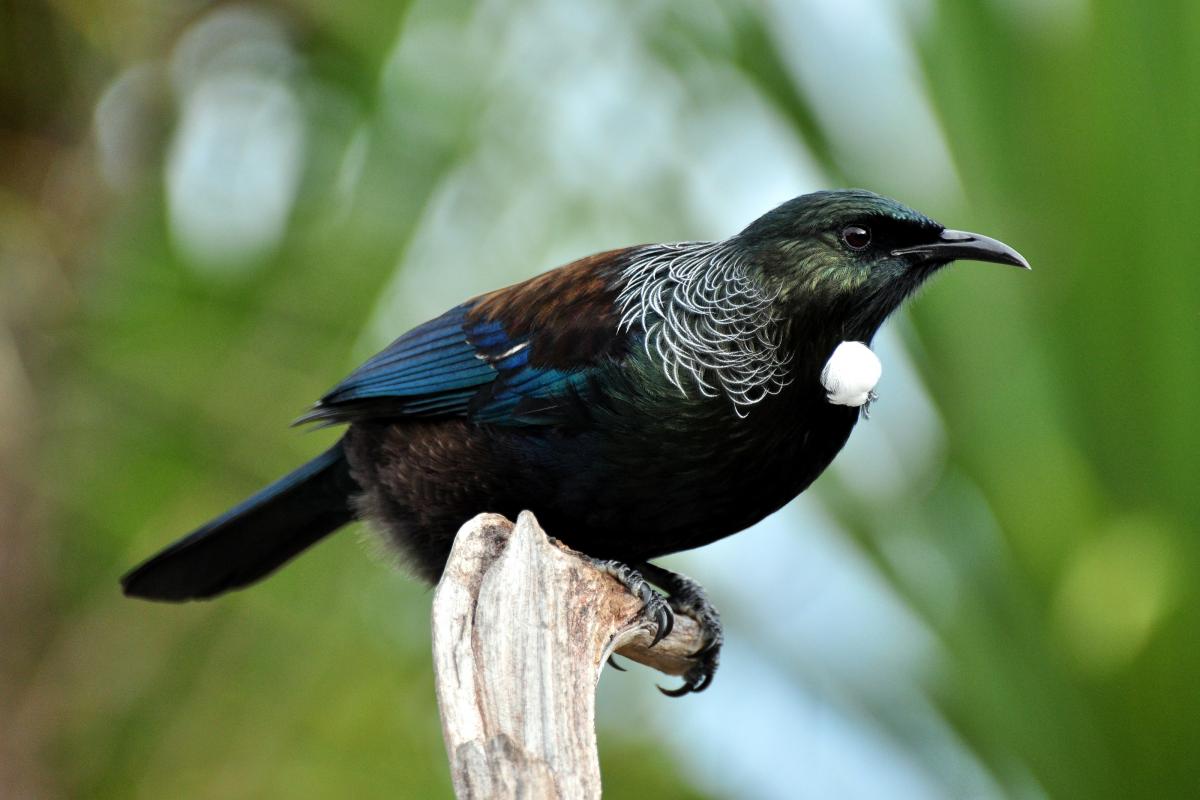 PUKEKO
Pukeko
Endemic to New Zealand, these blue birds are found in open grassy areas and ditches and along the margins of scrub or forested areas. Pukekos are found throughout the Lodge in numbers so you will probably come across them, especially by the tennis court and stream area and along the front driveway. If you are patient, around Christmas time, you could spot some very adorable pukeko chicks.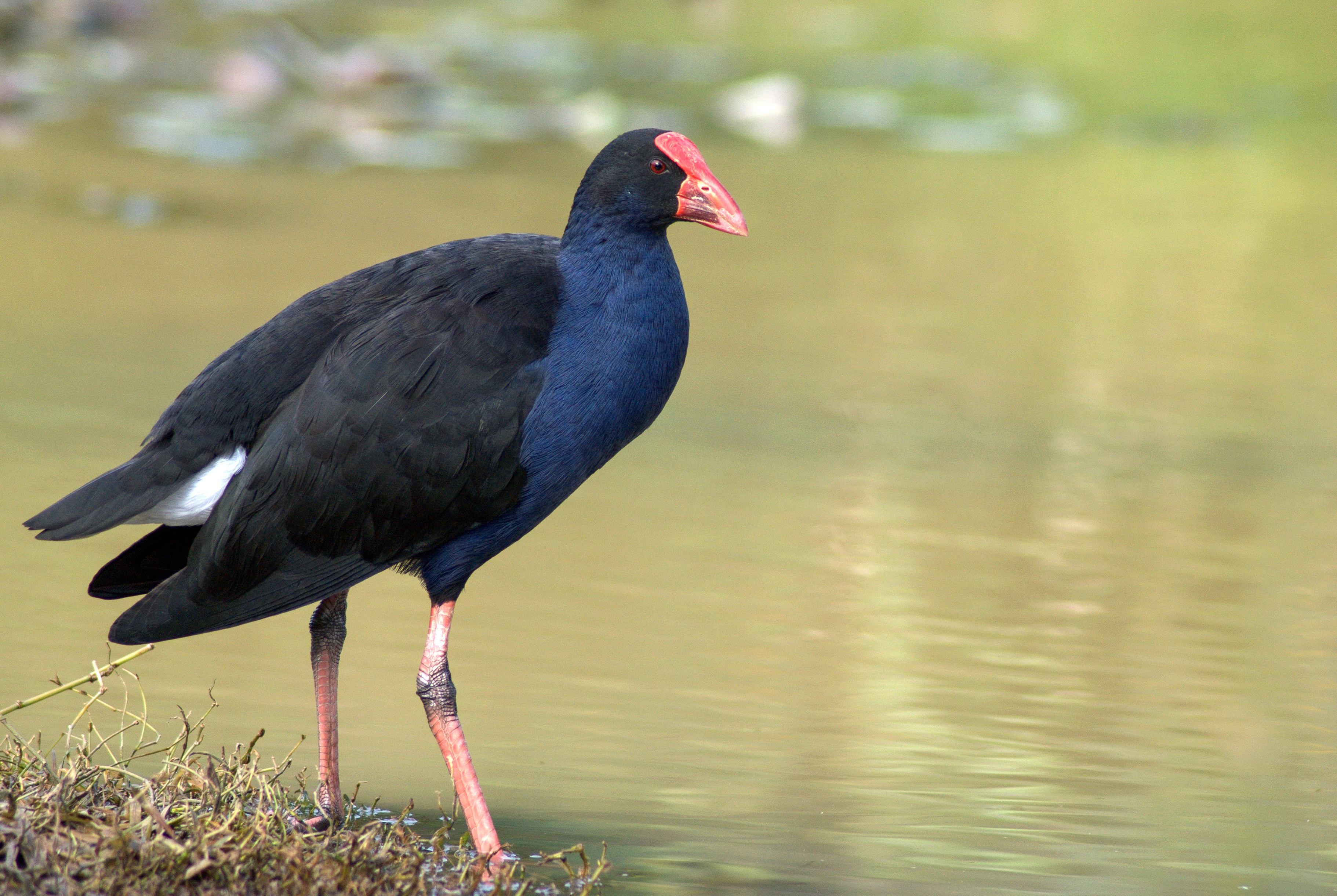 BITTERN
Bittern
It is assumed there are only a few hundred bitterns left in the wild in New Zealand due to predators and habitat destruction. Furthermore, Bitterns are extremely cryptic and rarely seen due to their secretive and evasive behaviours, which make research on their ecology and bahavoural patterns hard to come by. There have been a few sightings of the bittern at Helena Bay Lodge, in and around wetlands near Mohei beach track.
ROSELLA
Rosella
Rosellas are brightly coloured, broad-tailed parakeets native to the south-eastern region of Australia. They typically move around the landscape in pairs or small flocks and have loud squawking bird calls. Rosellas make great photo opportunities and can be found around the Lodge, including two resident rosella who frequent the trees around the King Kong and Moa vs. Haast Eagle areas. They are very timid birds so the best time to capture them is when they fly.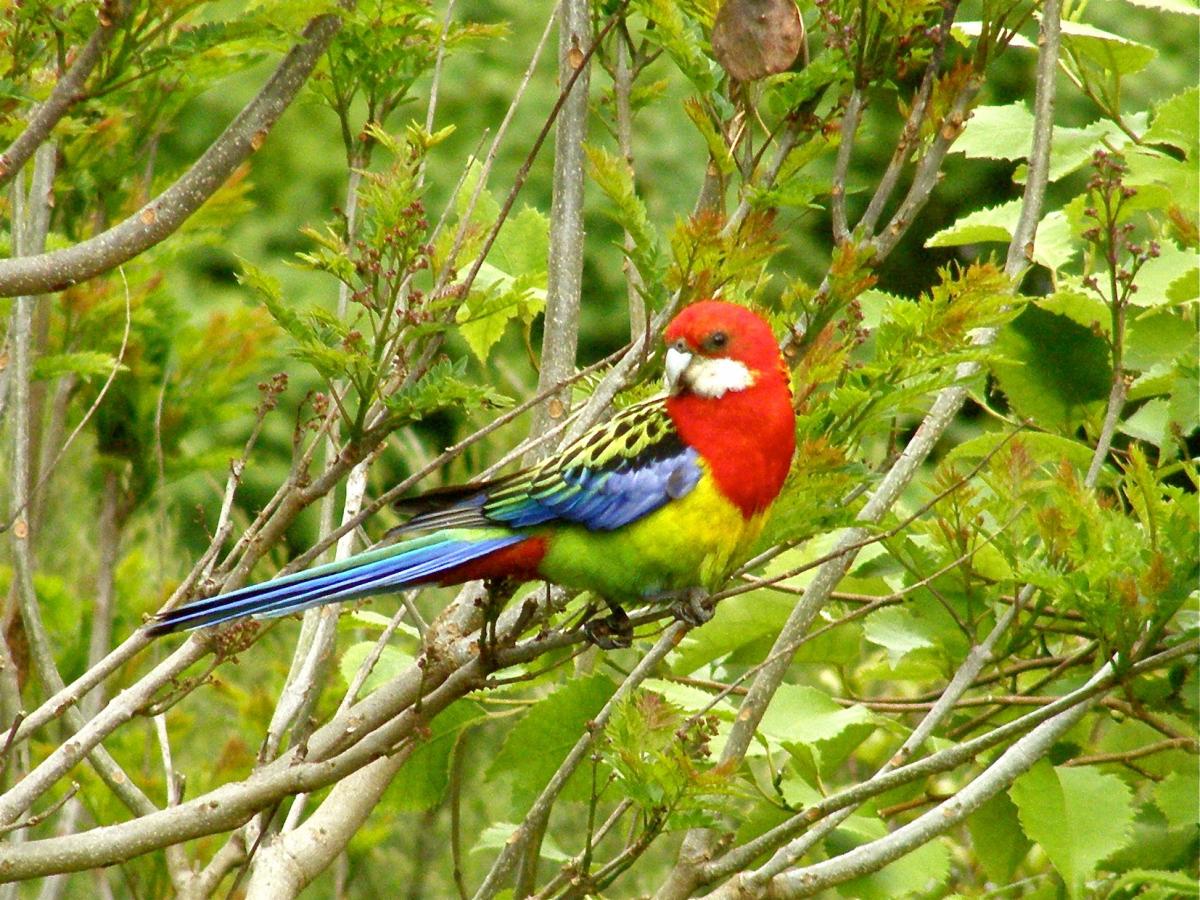 PIGEON
Kererū
The New Zealand pigeon has a widespread distribution throughout the country but is still compromised by introduced mammals, particularly possums, stoats, and ship rats. The New Zealand pigeon can be found in the forested areas around the Lodge, although patience is be required as they are quiet birds and well camouflaged in the foliage.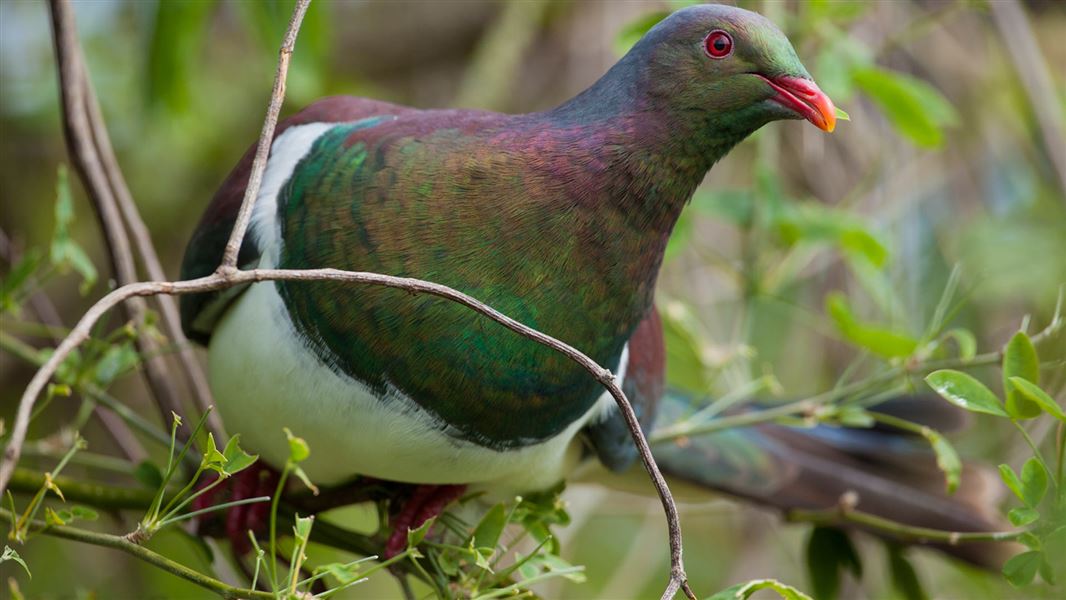 MOREPORK
Ruru
Ruru is a small, dark, forest-dwelling owl. In Māori tradition, the ruru was seen as a watchful guardian and is found in native and plantation forests.  Ruru calls can be heard in the forest at night time, but being able to see them up close is rare; they'll see you first with their acute eyesight.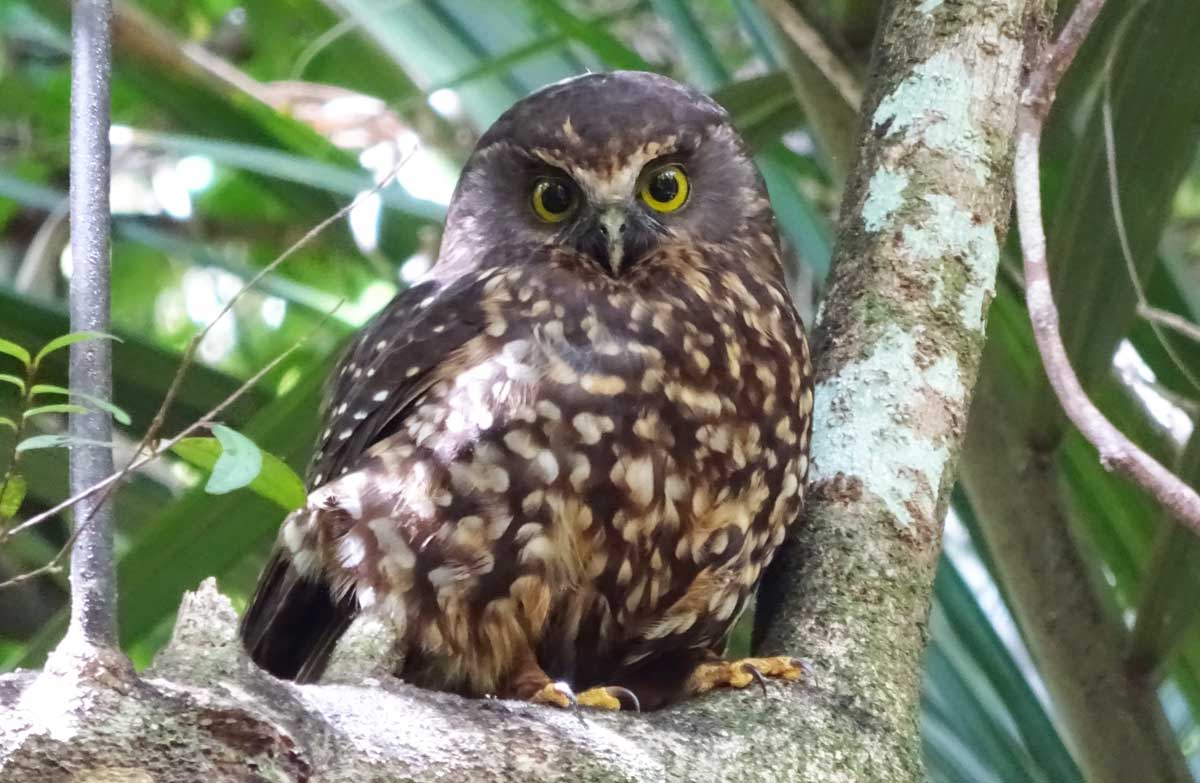 Luxury Helicopter Tours
Helena Bay Lodge owns one of the most high-tech and luxurious helicopters in the country. We offer scenic flights and experience packages for guests to travel in comfort and style to open up a range of day trips to destinations…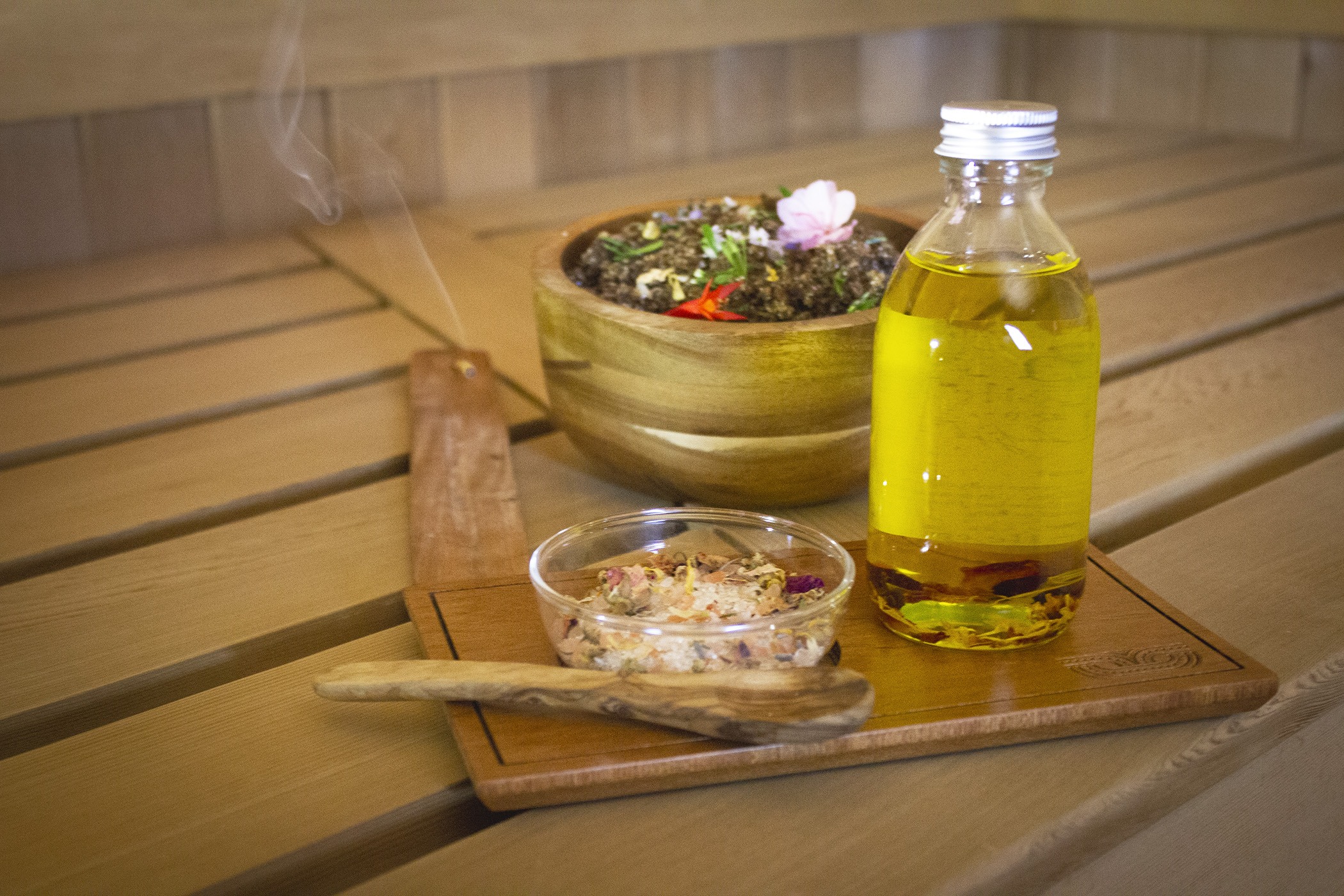 Massage & Facial Therapy
Indulge in one of our luxurious massage therapy treatments to relax muscles, soothe nerves, and revitalise joints for a healthier and happier you. We use Pharmos Natur products created purely from European medicinal plants to provide benefits from nature, by…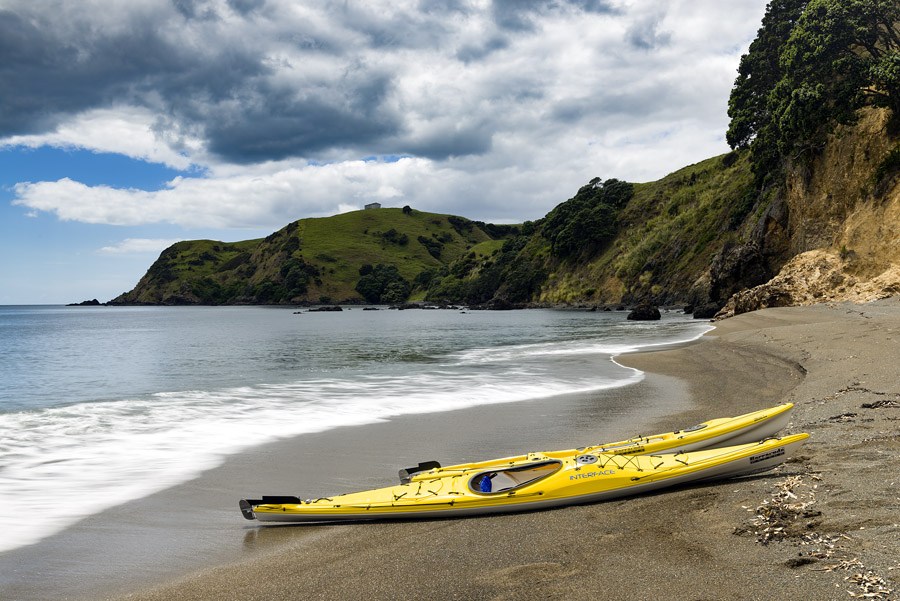 Kayaks and Stand-up Paddleboarding
We have a beautiful and fascinating natural coastline waiting for you to explore. We have top-of-the-range Barracuda kayaks to try, including fishing kayaks and our incredibly lightweight sea kayaks. Not only is it a great way to explore our property…
Stay up to date
Sign up to receive our updates and learn more about our property, receive special deals, events and more.