The Destination
Getting to Helena Bay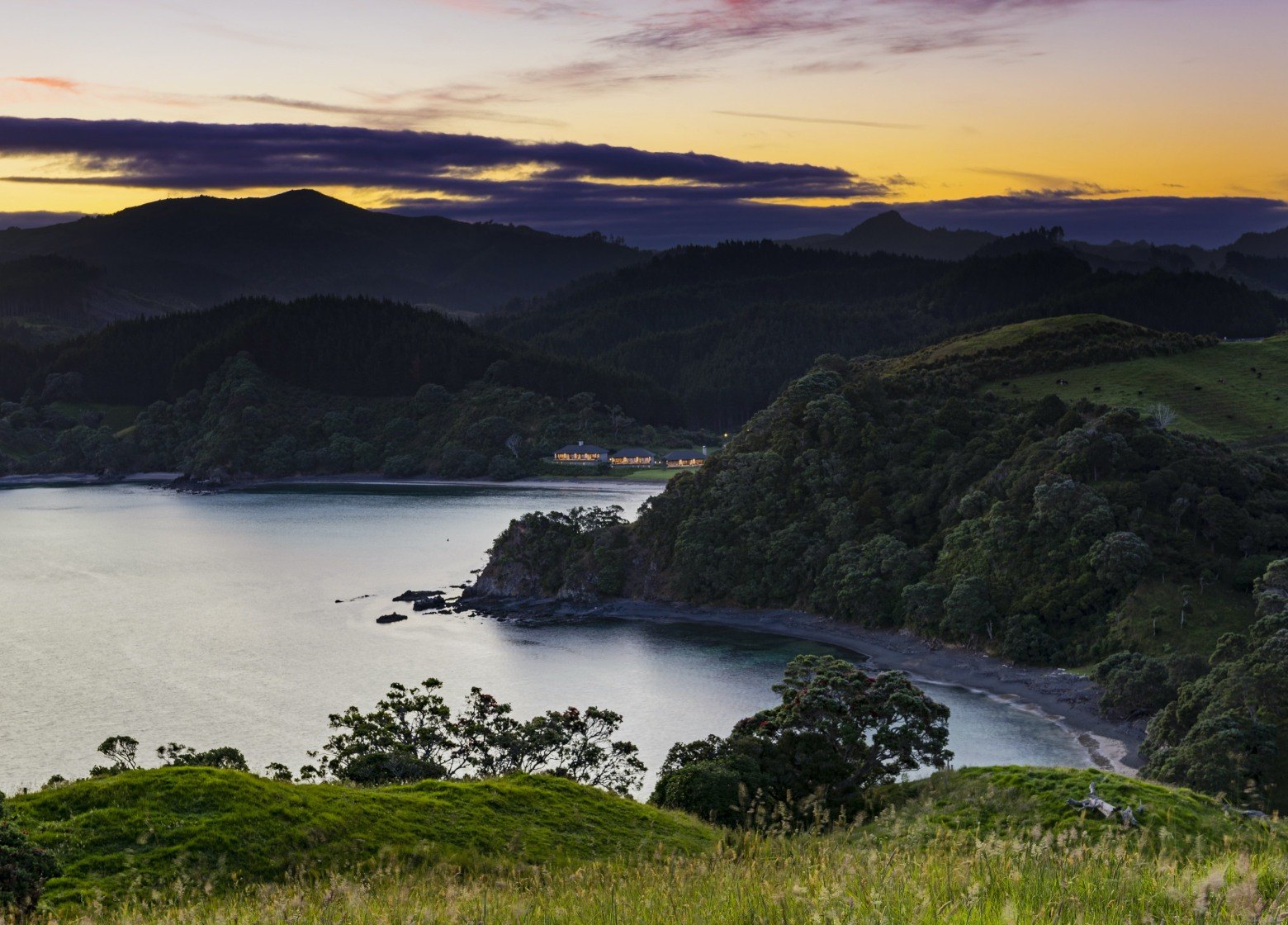 Lying in a secluded bay we are ideally situated to provide easy access to the Bay of Islands and Poor Knights Islands.
In 2010, a panel of global experts appointed by the respected National Geographic Traveler magazine ranked the coastline on which Helena Bay Lodge sits second equal on a list featuring 99 of the World's Top-Rated Islands, Coastlines and Beaches.
The Poor Knights Islands, shortlisted as a UNESCO World Heritage site, lie 20 kilometres off the coast. These islands feature the world's largest sea cave and are populated by orca, dolphins, and hundreds of fish species.
Location Map
Helena Bay Lodge
1948 Russell Road
RD4 Hikurangi, 0184
New Zealand
35° 25' 21.1" S 174° 21' 46.1" E
Getting Here
Transport Options
For assistance with transfers and your arrival at Helena Bay Lodge please contact our reception team. We will be more than happy to organise any transfers and assist you in getting to us as smoothly as possible.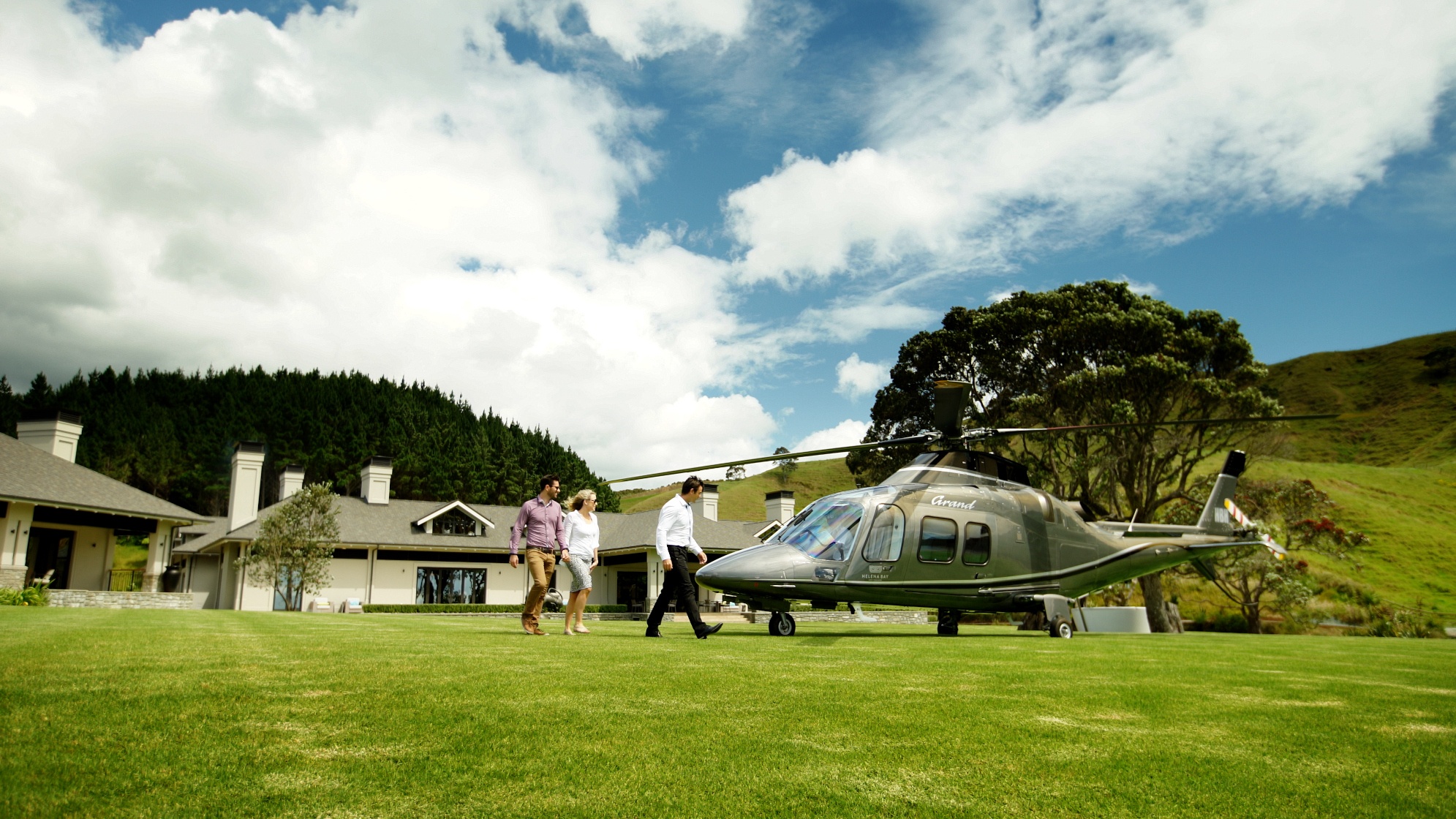 Helicopter
Helena Bay has its own top-of-the-range helicopter which is faster than any other available to the public in New Zealand. The Agusta Westland AW109S Grand can travel at speeds of up to 310 km/h and will have you at the Lodge in under 45 minutes from Auckland International Airport. There is no better way to arrive at Helena Bay than having savoured the breathtaking scenery of New Zealand from the skies.
The aircraft is operated by Auckland-based Heletranz. Their friendly and efficient team work closely with Helena Bay to ensure the best experience when flying to and from the Lodge. Any transfers and scenic flight reservations should be made directly with Helena Bay to ensure preferential rates.
You are more than welcome to use other helicopter service providers; however, we charge a landing fee of NZ$250.00 exclusive of GST, which we donate to the Northland Rescue Helicopter.
Commercial Flights
From Auckland Airport (AKL) Air New Zealand operates scheduled services to the regional airports of Whangarei Airport (WRE), which is approximately a 50-minute drive south of Helena Bay, or Bay of Islands Kerikeri Airport (KKE), a 70-minute drive to the north of Helena Bay. From either airport, we can arrange a transfer for you, or you may wish to self-drive.
Private Transfer
We will arrange for your driver and vehicle to meet you at the airport or hotel and transfer you to Helena Bay Lodge. The Helena Bay reservations team can arrange chauffeur-driven car transfers from anywhere in New Zealand. Please contact us for more information.
VIP Meet and Greet Airport Service
This includes a meet and greet at the aircraft door as you disembark, an escort to fast-track you through New Zealand Customs and Immigration and assistance with luggage retrieval.
Once in the arrivals hall, this service will cover your transfer to a waiting private transfer, the helipad, domestic terminal or air centre for a private charter.
Please contact us to arrange this service.